Garage Floors & Concrete Staining
Bring your garage floors to life with our concrete staining and painting.
Talk to a Painting Expert
Make your garage floor look better and easier to clean with our concrete staining services.
Let's face it, your garage floors have seen a lot of dirt and grime over the past years and they tend to be the last place you'd think to do routine house cleaning. After many years of using epoxies that fail, we have found the procedure and urethane based product that will last under your SUV's hot tires. You can select any color in the rainbow–with or without decorative paint flakes. And the results are beautiful.
Here's how we do it:
Remove a reasonable amount of items from your garage
Clean the floor and degrease if necessary
Fill in the cracks
Coat the floor with our 1 step application
There are several benefits to concrete staining your garage floors, including preventing stains, concealing cracks, increasing your home's value, and improving the overall appearance.
Let Color Faux Walls Bring Your Garage Floors to Life
We'll help liven up your garage and create a safe, practical and aesthetically pleasing space to house your vehicles, lawnmowers, power tools and more.
With over 20 years of experience, there's a reason Color Faux Walls is metro Atlanta's top choice for high-quality services at fare prices. We treat your home as it's our own leaving it better and brighter than it was before. All of our professional painters are respectful of your space and take pride in their work. You can expect nothing but the best concrete staining service in Atlanta.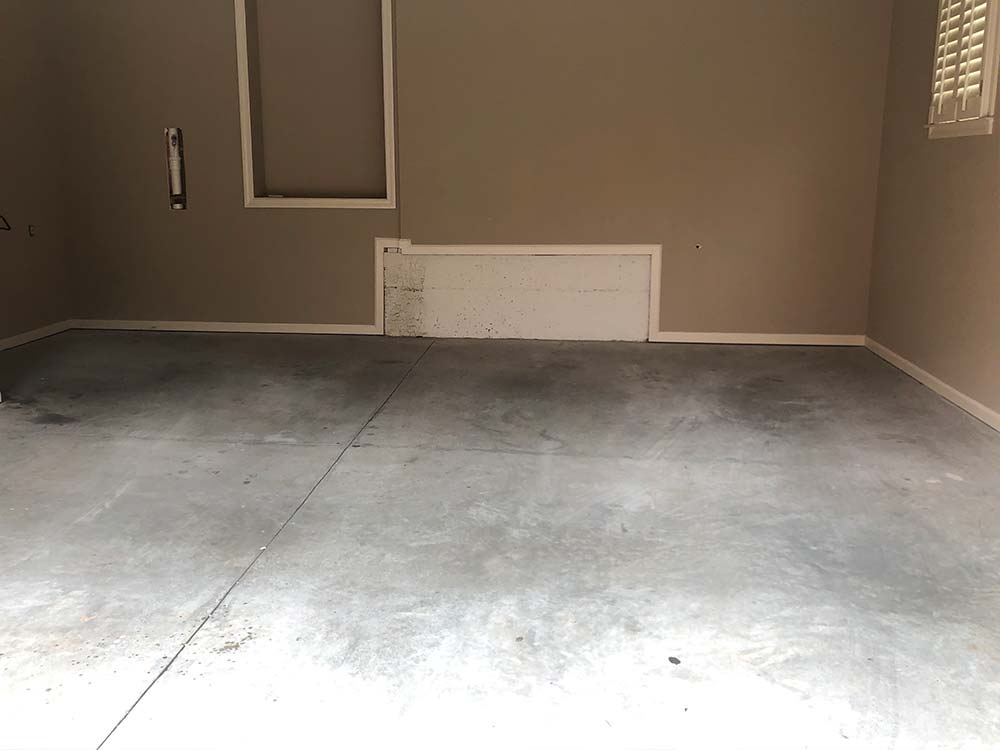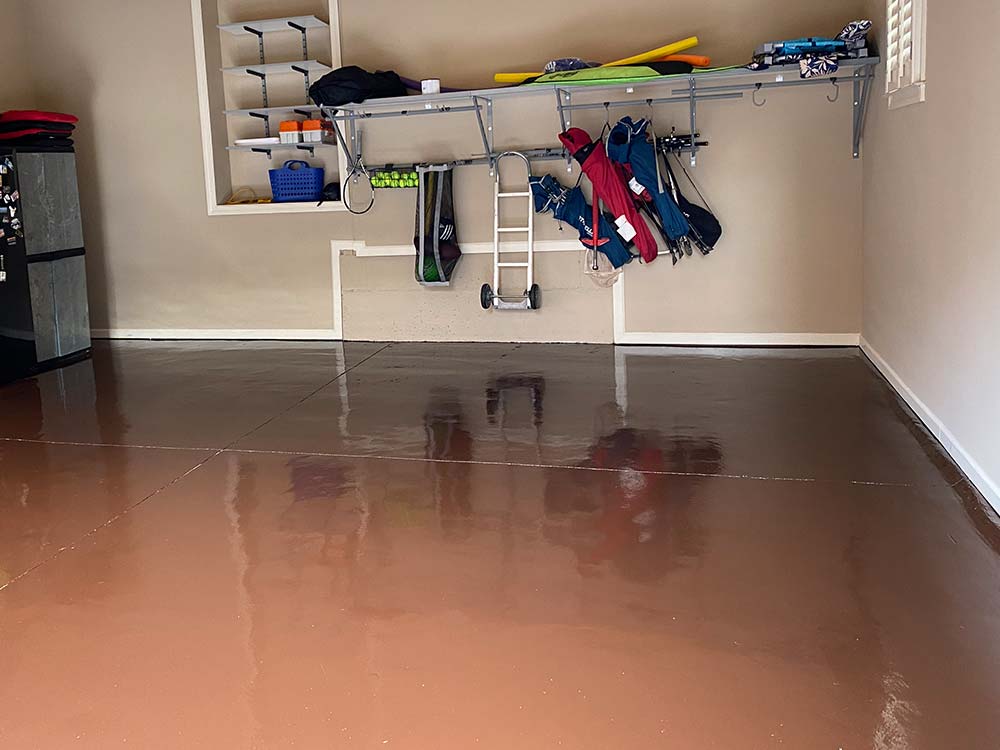 Why Our Concrete Staining is Different
Aside from our process and urethane based staining product, we're not like your average concrete staining company. We make every effort to make your experience unique and personal, from service and pricing to products and results. Here are just a few more reasons to choose Color Faux Walls for your concrete staining needs.
We Clean-Up Our Messes: We make a mess but clean up after ourselves!
We Are Transparent Communicators: Our team will clearly discuss any concerns with you
We Exceed Expectations: We strive to exceed what you hoped for
No Movers!: That's right – we will move and replace all of your heavy furniture
Quick Call Backs: typically on the same day
Fast Estimates: we'll prepare your estimate for you within 24 hours
Whether you're new to hiring a professional company to handle your concrete staining needs, or you've only hired pros, you may have a few questions for us. Below, we've answered some of our more frequently asked questions that you may have too.
Get Your Free Estimate Today
Let us put our decades of experience to work for you – contact us today to learn more about how we can make you feel at home again with Color Faux Walls concrete staining services. We'll provide you with a free estimate and suggest the best course of action to make your home feel like home again.
Schedule an In-Home Estimate
Is it time to update your home's interior or freshen up the outside? From painting to pressure washing and repairs, contact us today for an in-home estimate and let our experienced experts provide you a free, competitive estimate.
Talk to a Painting Expert